Forthcoming public gigs
"I just wanted to let you know how much I enjoyed coming to the concert on Monday. What a delightful way [to] spend a Monday lunch time" [Sarah Thomas]
---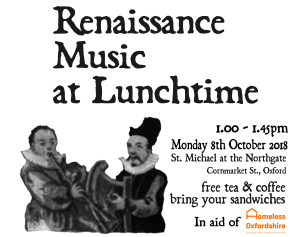 Forthcoming Public Concert: Lunchtime (1.00 - 1.45pm) Monday 8th October 2018 at St. Michael at the Northgate in Oxford. Admission Free, with a retiring collection in aid of Homeless Oxfordshire.
Why not book us for your event or concert?
---
"our favourite local band" [Oxford Museum of the History of Science]
---
Past Gigs
We've kept a record of some of our previous gigs, at least since 2004.
---

webmaster's pages