"a bewildering array of early instruments ... played with sensitivity and verve... Early music dull? Not with these guys on stage!" [Cholsey 1000 Festival review]
About Skeleton Crew
Skeleton Crew is an Early Music band of Oxford musicians, performing medieval, renaissance and baroque music. Our instruments include recorders, baroque flute, lute, theorbo, 'cello, harp and harpsichord. We aim to show our modern audiences how enjoyable Early Music can be, and we have fun exploring a range of pieces from several centuries and countries. We plan our programmes for a range of events around Oxfordshire, for public and private occasions, including for charity. We have CDs for sale and videos to watch.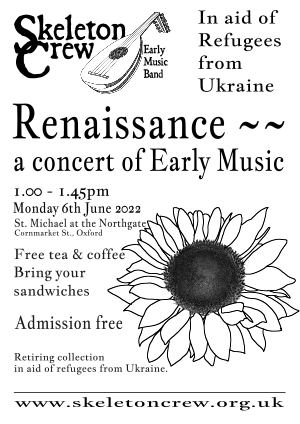 Forthcoming Public Concert:
Lunchtime (1.00 - 1.45pm) Monday 6th June 2022 at St. Michael at the Northgate in Oxford.
For our first concert since the pandemic began we will be playing some of our favourite pieces from our medieval, renaissance and baroque repertoire.
Admission Free, with a retiring collection in aid of refugees from Ukraine.
Click the image for the poster as a pdf.
"a delightful evening of early music ... often played with quite blistering dexterity ... the programme offered a most satisfying balance between diversity and coherence" [Daily information review 2009]

"Out of the Ground" is our most recent CD. Full track lists of this and for a free download of our two previous CDs click here.

---

webmaster's pages