Welcome to Wild Ruby
Wild Ruby is a musical duo, specialising in Sephardic Songs and original compositions. We live in Oxford in the United Kingdom, and are available for concerts, events, festivals and recording projects.
"Really wanted to say that was a really great concert - I so enjoyed it!!!!"
Find any upcoming Wild Ruby public performances here.
Karen Kay sings in a variety of styles, plays the piano, writes songs and is a singing teacher. Her latest solo show is "Sewing with the Rain".
Andrew Kay plays baroque flute, recorders, viola da gamba and percussion. He also plays with Skeleton Crew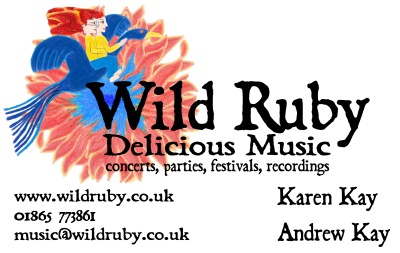 About Wild Ruby
Wild Ruby perform delicious songs from the oral tradition of the Sephardim, whose ancestors lived in the Iberian peninsula during the Spanish Golden Age. The lush music and piquant stories resonate with the sounds and textures of the Spanish, Jewish, Moorish, Greek, French and Turkish cultures. The result is a sumptuous mix of sounds and textures hinting the unique history of each song.
Since 2004 Wild Ruby has been promoting Sephardic songs with a passion equal to the passion of the songs themselves. Singer Karen Kay and accompanist Andrew Kay present each song as both a story and as a musical experience, making them thoroughly accessible to any audience.
The complex history of the tradition means that the songs are full of surprises. In more than one we can hear elements of the Rapunzel story of Northern Europe: a girl locked in a tower uses only her wits (and her long hair) to allow her lover to visit her. Kings and Queens suffer problems of life, unrequited love and lineage. Bored housewives dally with local tradesmen. Two-timing husbands find home life not so cosy. Though intense and passionate it's all done in good taste, with poetic language and clever double-entendre – innocents will be none the wiser after hearing them. Which is surely what you'd expect from a family tradition.
Each story is performed in English, bringing the audience to the song, which is sung in the traditional Ladino. This language has, like its speakers, travelled from Judeo-Spanish, collecting words throughout the Mediterranean lands.
Wild Ruby has enjoyed arranging the songs, inspired and guided by the wild magic of the melodies and lyrics. They are proud to be keeping the creative tradition alive.
Karen found herself by chance at a Sephardic concert in 1998 and fell instantly in love with the music. Since then she has studied the songs and sung them in all kinds of settings, forming the duo Wild Ruby with her husband Andrew, who accompanies her on viola da gamba, flutes and dumbek. The range of bowed, plucked, beaten and blown sounds give a varied and sensual backdrop to the singing.
Wild Ruby was recorded by the BBC in April 2009. They also have a CD of Sephardic songs called Saffron and Sapphire.