Wild Ruby's Early Music Cryptic Crossword
Here is a printable pdf file of this crossword, which you may find more convenient, or may wish to send to your friends.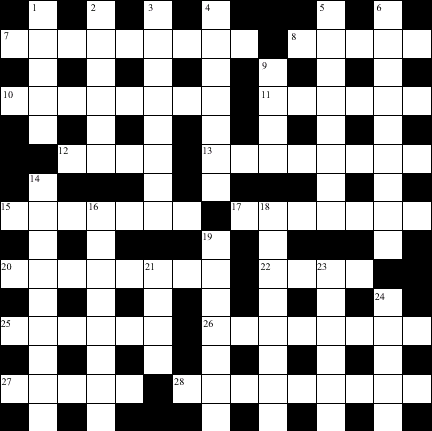 All the answers are connected in some way with Early Music
Copyright © 2007 Andrew Kay
Visit us at www.wildruby.co.uk.
You are free to make unmodified copies of this crossword provided that you do not charge for it, and that you leave this notice intact.
Across
7. Half colours added at intervals (9)
8. Insults one's articulations (5)
10. Lying on the wagon, ring for range extension (8)
11. Note start of military operation (6)
12. Seen in hymnal, top voice (4)
13. Old reed players, lucid, produced short response (8)
15. Premeditated encores? (7)
17. Chordophones played with insteps (7)
20. Forged easier ID on day of wrath (4,4)
22. About Saint of silent order (4)
25. Reverse speed, change at new poem (1,5)
26. Spend a long time practising these? (8)
27. Alternate time stream (5)
28. Change in order to modify pitch (9)
Down
1. Held note may start cycle (5)
2. Single woman and a large mass container (6)
3. Old wind-cap knight includes orthodox, old Latin (8)
4. Brief time with love for part II (7)
5. Room to let, for example, may contradict 23 down (4,4)
6. Tenor Cage modified with ornament (5,4)
9. Follow notation that changes length (4)
14. Records stop qualities (9)
16. Full costume group (8)
18. Sing after harp changes melodic sense (8)
19. Bad moods for tuning adjustments (7)
21. Seek base note (4)
23. Dangerous items for pitch control? (6)
24. First violin and Gaelic stanza (5)
Send us your answers, or request for solution! I'd be happy to hear which is your favourite clue, or least favourite, and any other comments you may have. This crossword first appeared in Tamesis, the newsletter of the Thames Valley Early Music Forum.-- Andrew.
Successful Solvers' Hall of Fame
Chris North
Ruth Harris
Mark Leonard