Recording...
We finished our recording of Sephardic music in October 2006. The CD is called "Saffron and Sapphire", and was launched in style in a concert at the Holywell Music Room.
Saffron and Sapphire: Piquant Sephardic songs of passion and life: Tales of wayward daughters locked in tall towers; Love lost, found, denied and borrowed; Lullabies with bite and babies secretly swapped.
You can find some small music samples on our other pages.
We recorded an interview with some of our music for the BBC in April 2009, however we were not given permission to copy it on the web site -- sorry! (Programme went out on air on Sunday 3rd May 2009 on Global Echoes)
The price of a copy of the CD is £10, and we charge £1.00 for postage in the UK, £2.00 outside the UK. Please contact us for payment details or use one of the PayPal buttons below. We can also accept cheques or cash in UK pounds.
Use this button if you are in the UK:
Use this button if you are not in the UK:
We commit to sending your CD or CDs to you within 28 days of purchase, however the time will usually be much less. Contact us if you have a really urgent Birthday Present deadline to meet!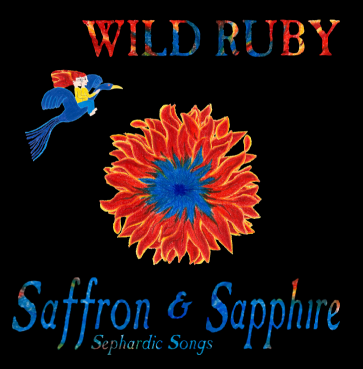 This CD is dedicated to Martin Epstein
List of tracks...
There is a silence / Si verias
Esta montaña d'enfrente
Páxaro d'hermozura
Partos trocados
La serena
El encalador
Nani nani
Tres hermanicas
Estrella
Yo m'enamori d'un aire
Durme durme
Ya salió de la mar la galana
Por la tu puerta yo pasi
This mountain before me
Buy your copy Now!
Artwork copyright © 2006 Wild Ruby. All rights reserved.